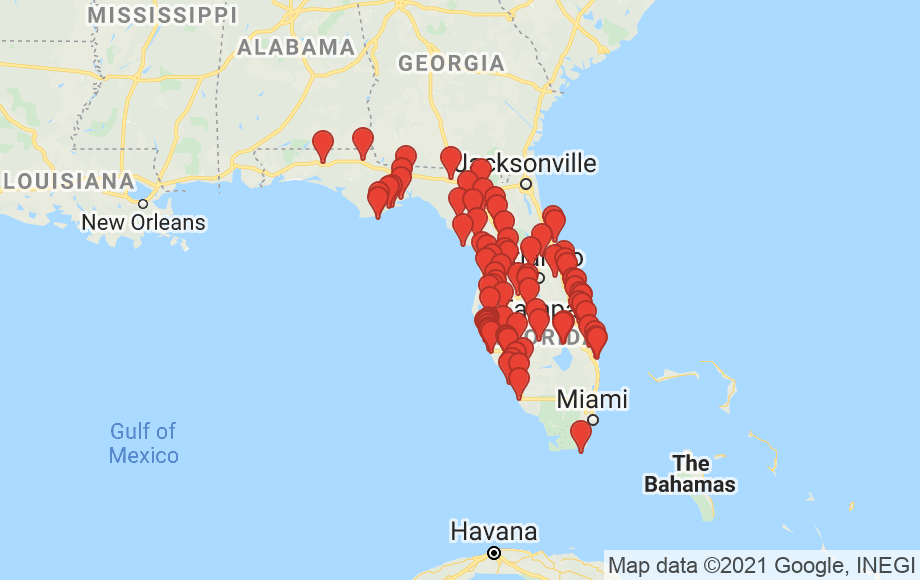 Lets start off the new year with the old. This is data from Google for 2020:
Our travels in 2020: For a total of 22 trips. Thanks to Covid none to Germany or outside of Florida. But Florida has some pretty awesome places.
Lets see if we can beat this.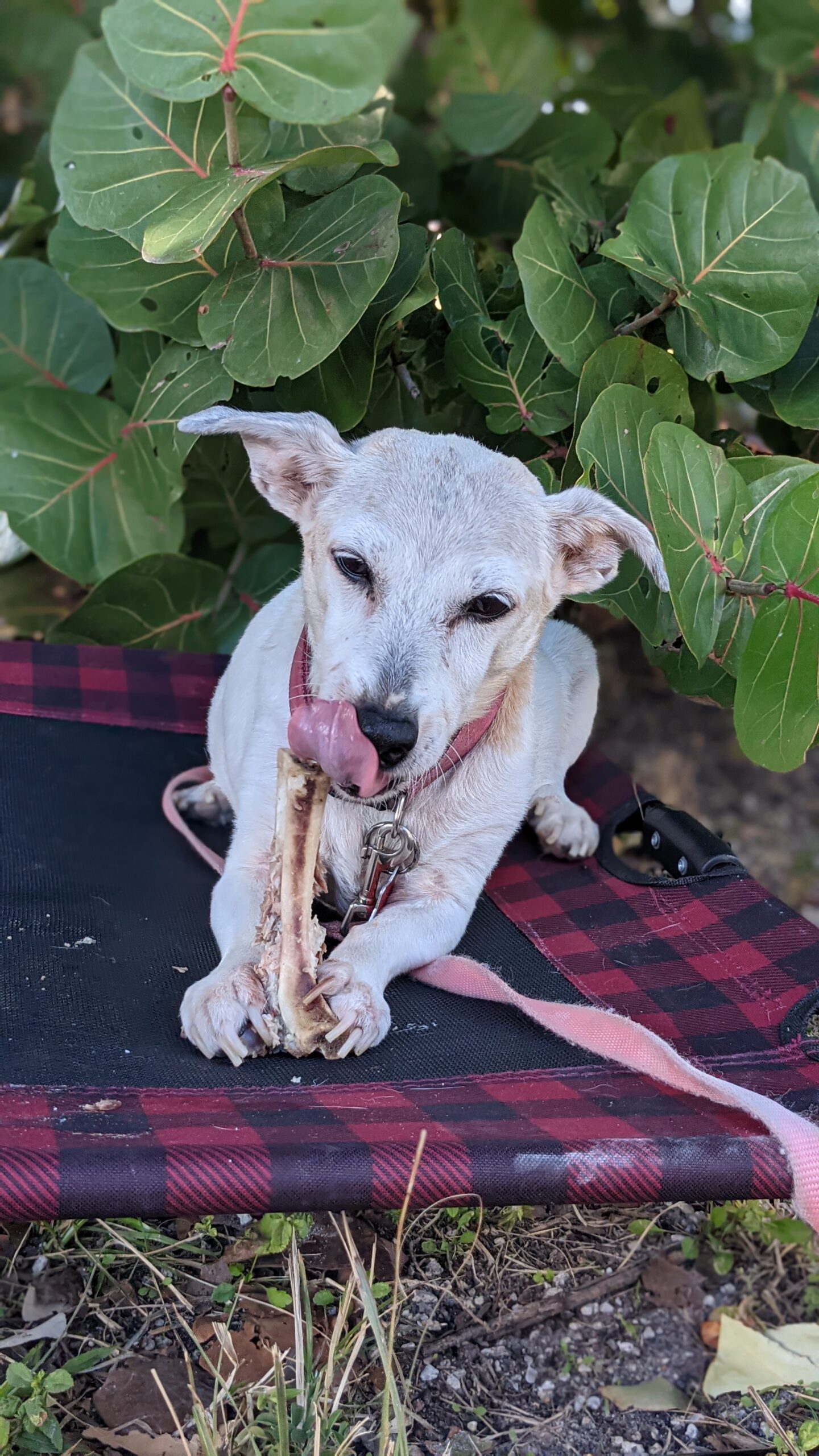 Bull Creek Campground
January 15, to January 17, 2021
Trip #40 and the first one without Skully. She passed away Friday morning. I guess it's save to say that it wasn't the best start into the new year. The weather didn't play nice either. Just in time for arrival at the campground it started to rain. Heavy! It was over by the time I was set up. Saturday was way to cold and windy to be save on the water kayaking. We still enjoyed the location and some pretty nice neighbors. We have to come back here some day. I couldn't resist to have the humongous Creek Burger from the restaurant located next to the campground. Made me gain 2 lbs. 🙂 This for sure is rural Flagler County. It's so rural, they grow kale here. I think it's also save to say, we made the best of it.
Now it's time for a short break and do some work on the house.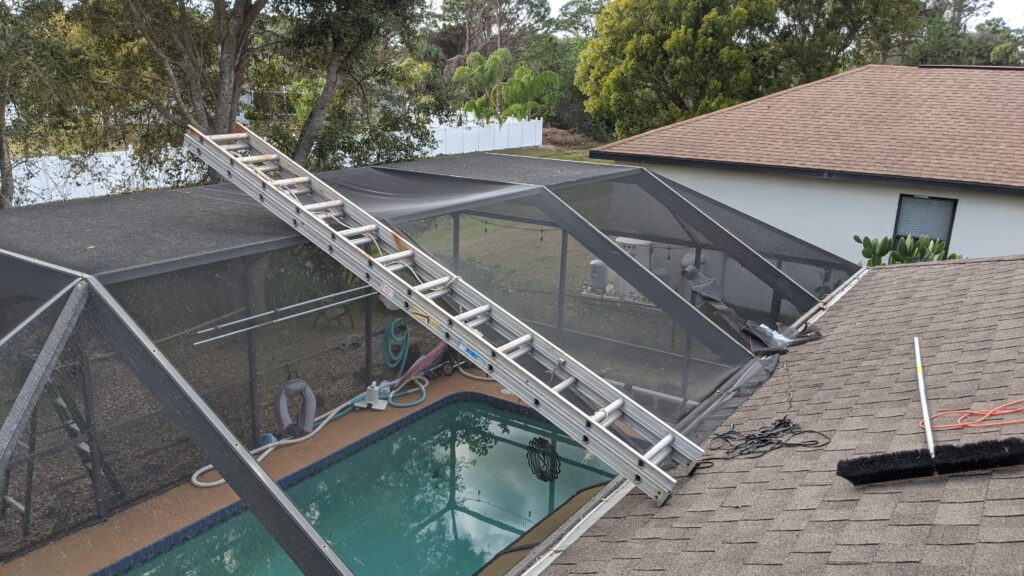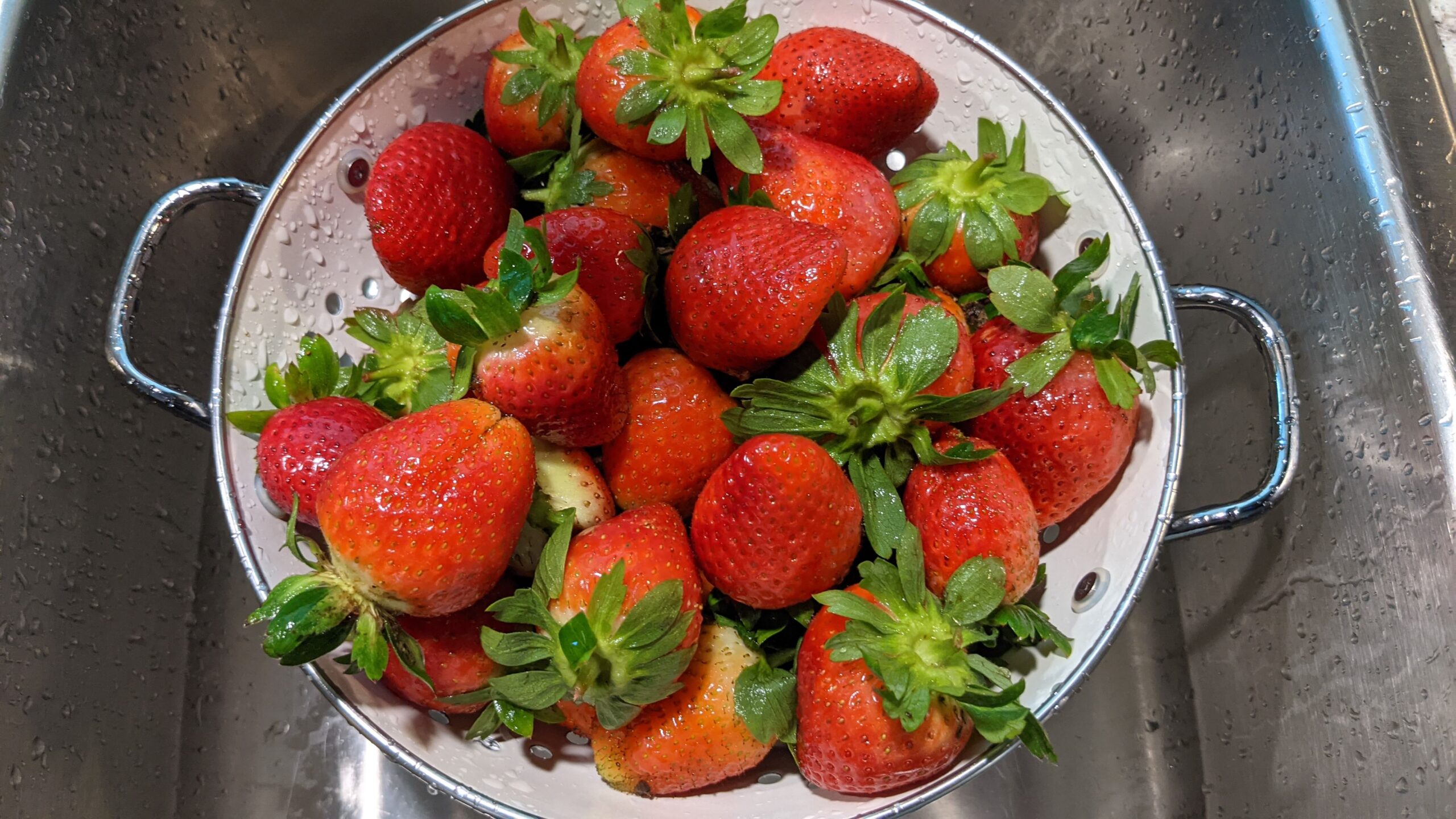 Citrus Hill RV Resort
February 12, to February 14, 2021
This officially was our first 55+ campground. I am old enough now. The main reason we went, was to meet up with some friends who are staying here for 2 months. The weather wasn't perfect, but we still managed to pic some strawberries in Plant City. Next stop, the Everglades.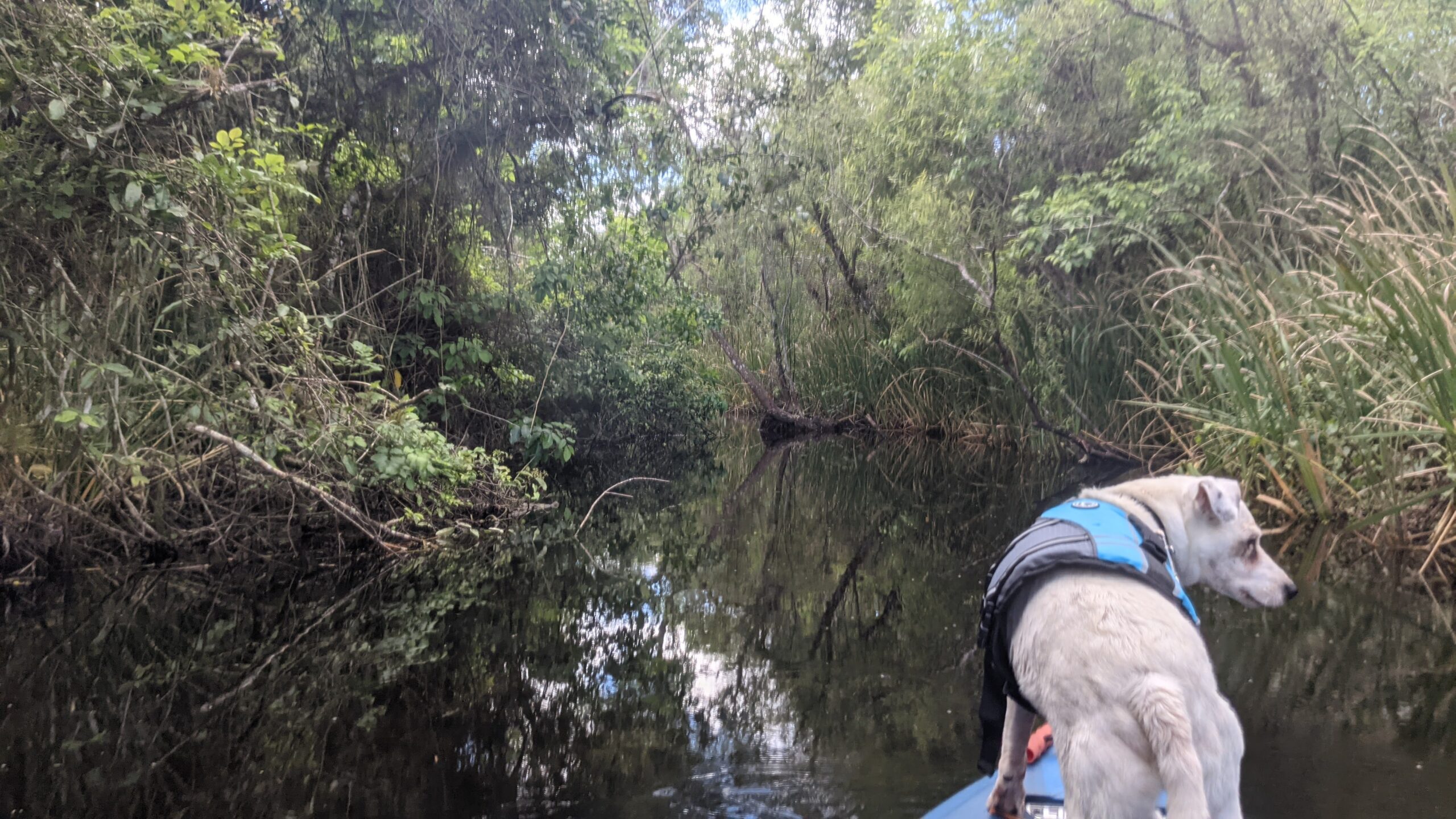 Midway Campground – Everglades
February 26, to February 28, 2021
Midway for the 3rd time. The gators were active and I think this was the year with the most birds I have seen in the Everglades. We went kayaking on Turner River. I/we have driven through the Everglades numerous times, including several airboat tours. This was the first time we saw the Everglades. And I know we barely scratched the surface. We also took Loop Road back to the campground. Loop Road is a 24-mile "shortcut". It's a dirt road that takes you right through the Everglades. There are multiple places that are worth stopping and the southernmost point of the Florida Trail is off of Loop Road. On our way home on Sunday we stopped at Kirby Storter Roadside Park. Another place one normally just drives by.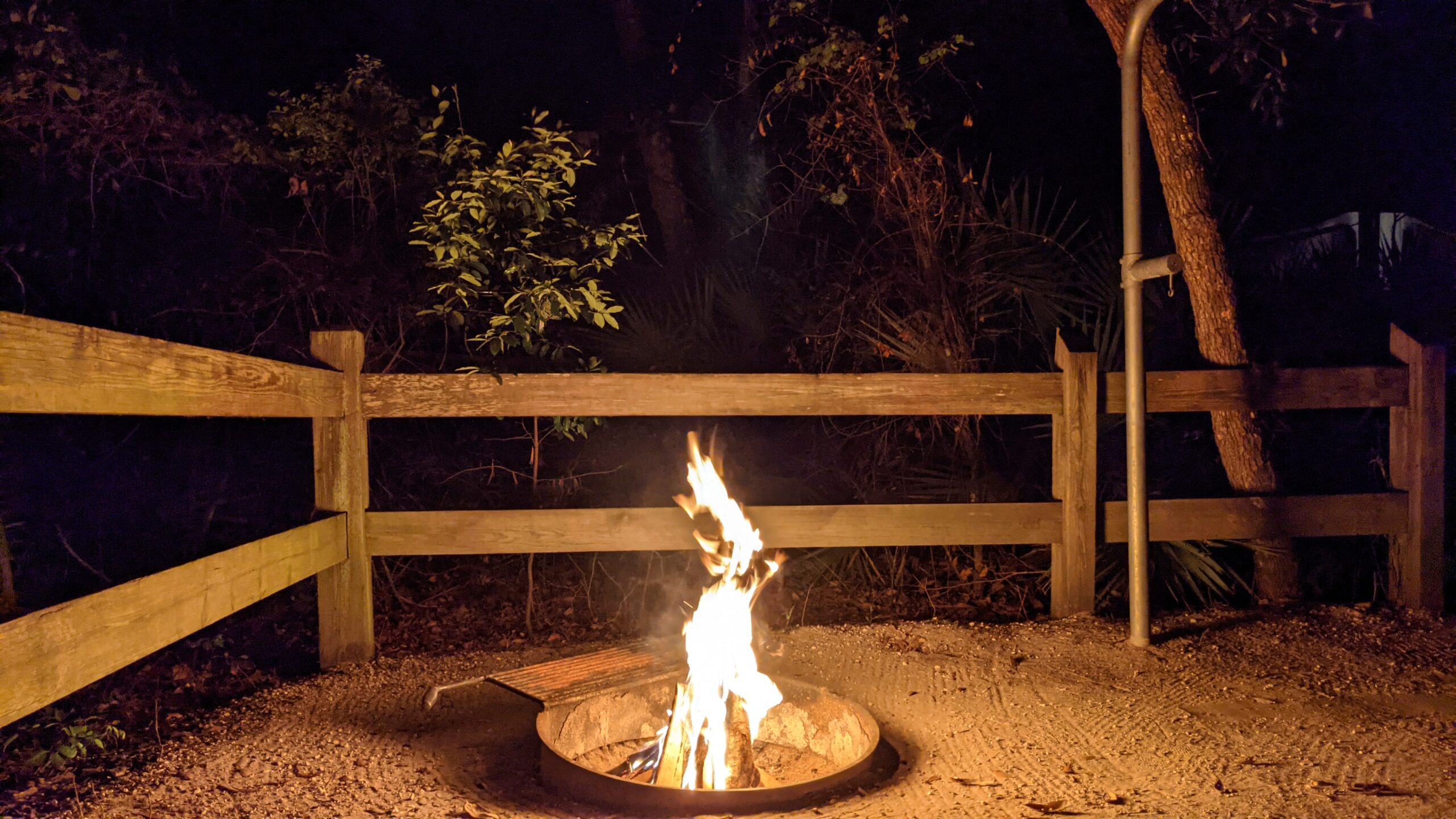 Lake Griffin State Park
March 12, 2021 to March14, 2021
Another perfect place to put your kayak in the water. Lokai seems to be able to sense the Alligators in the water. Soon as I spotted a big one far away, he climbed into my lap and didn't leave until we were back on land. While this was the most unlevel site we have been to yet, this park knows how to do ADA right. They have the perfect kayak launch and even the children's playground has a swing for kids in a wheelchair. Impressive. This park is close to civilization. So we got our burgers from Hardee's and I stocked up on my favorite wood pellets from Rural King. On our way home we stopped at Ikea in Tampa. Big mistake as usual. lol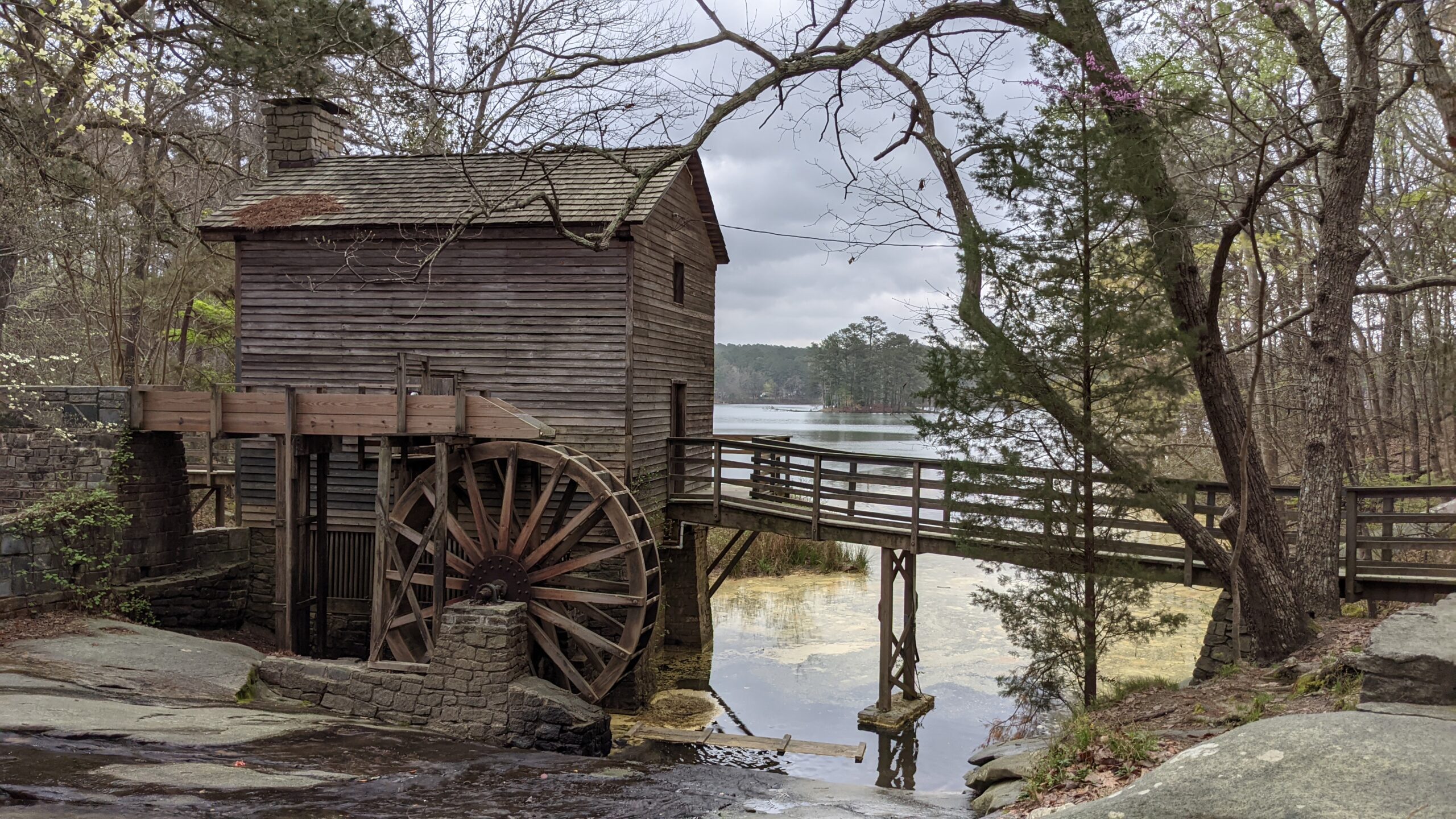 Stone Mountain Georgia
March 26, 2021 to March 31, 2021
We left on the 25th around 9 pm and headed north on I75. First stop for the night: The visitor welcome center right after the Florida, Georgia line. We arrived there at 2 am, got a little shut-eye, and headed for Cracker Barrell around 7 am. After a hearty breakfast, we worked our way through heavy rain and even heavier traffic around Atlanta. I guess I timed our stay here perfectly with the blooming of the pine trees. On my way back from Bojangle's and Lidle Saturday afternoon. the area around Stone Mountain was covered in a yellow haze. I have never seen that much pollen in the air. Everything here is yellow. Saturday we started our sightseeing tour with a drive around the mountain. We walked up to the carving and checked out things we can do while here. Sunday started out with overcast and rain. At least some of the pollen was washed off. But don't worry! There is enough pollen in the air, to cover everything again within minutes. We went to the Grist Mill to see what that is about. As you can see above, picture-perfect. It's also the place where my slip-resistant shoes failed me for the first time ever. Yup! I ended up on my butt in the water. That might have been a good thing because right after it started to rain heavily. So we waited that out before we went for the train ride around the rock. Later that afternoon we had some friends over. They brought food for an army. We had a good time. I am glad Charlene met them at a Flying J in 2019. On Monday we woke up to a sunny day. Perfect to go up the mountain. The easy way in a cable car. We spent some time on the top and enjoyed the view. Atlanta's Skyline looks almost small. By now Charlene is pooped. I think I wore her out. So I took Lokai for a hike on a nearby island. I think he feels a little neglected because he can't take part in most of the activities. Tuesday we took the kayaks out on the lake. This time with Lokai. He went in twice and jumped off a third time just before beaching. Wednesday started overcast again, I cleaned about a foot of pollen off the RV and we headed south. The rain helped to clean the RV and the car a little. It ended up Charlene's "favorite food store day". We stopped at Crispy Cream and Hardee's. We also managed to stop at Buc-ee's and get some brisket sandwich and never nuggets among other unhealthy stuff. Oh! Charlene got like 30 donuts. She must really like those. Halfway home we encountered some shaking again. Both inner tires on the rear had the tread separate from the belt. That now makes 5 out of 6 original tires junked after 27000 miles. By luck, we ran into two guys at a rest stop that was changing 3 tires on a semi-trailer. They helped us mount the spare tire to the driver's side. It helped a little with the shaking and we made it home safe. 4 new tires are already on order. Time to get ready for the next trip.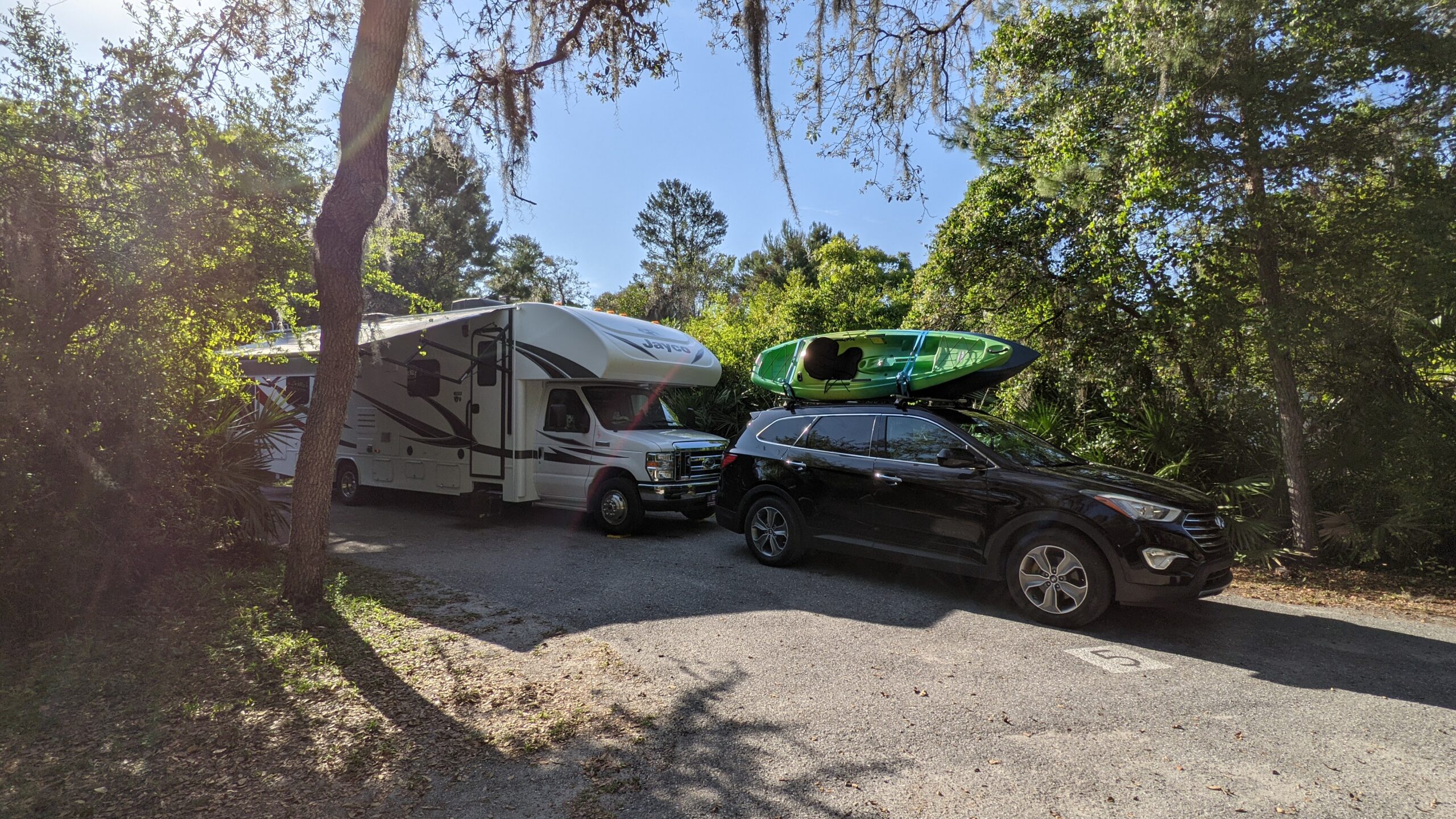 Little Manatee River State Park
April 9, 2021 to April 11, 2021
Well, while every weekend camping is a good weekend, this one was slightly disappointing for the fact that the kayak launch is inaccessible to anyone with a walking disability. The launch area is about 1/4 of a mile from the parking lot. You get there by taking a path full of loose sand. If it was paved, I could have used the wheelchair. Not here. We still made the best of it. And I got to use the new grill more than I had planned. Time to do some maintenance before the next trip.